IF YOU ILLEGALLY RENT 605 PASEO DEL MAR AS A COMMERCIAL (FOR PROFIT TO OWNER) WEDDING OR OTHER EVENT VENUE, THE NEIGHBORHOOD WILL DISCOVER THIS AS YOU ARE SETTING UP FOR THE EVENT, OBTAIN YOUR INFORMATION AND PLACE YOUR NAMES ON THIS WALL OF SHAME.
Natasha Renee Cleveland & Michael Kossman: this resident bride of Atlanta, GA, working with Wells Fargo, reportedly claimed in her rental agreement signed last minute on 07/17/2015 with Desire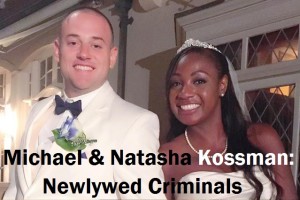 Meli Kocarslan (signed 07/28/2015) that the use of 605 Paseo del Mar was for a small (i.e., 13-person) family gathering. The truth of the matter is that the property's primary purpose was to serve as a 09/12/2015 illegal wedding venue with 80-100 guests. The bride, Ms. Natasha Kossman, had guests as a whole were extraordinarily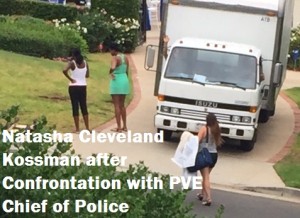 disrespectful to the neighbors, including aggressive confrontation toward a neighbor across the street and awakening entire families during the party's exit process as late as 1:30 a.m. The noise was so loud that one new set of parents were compelled to move their young baby's crib entirely away from the illegal Cleveland wedding side of the home and downstairs into a room without a cooling breeze available – all during a heat wave.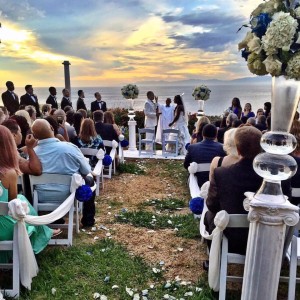 This illegal wedding reportedly had 140-160 attendees (fractional photo to left just itself shows nearly 40), 800% of the maximum allowed by PVE law. Associated parties to the wedding party include Jeffrey Wolff, Leatrice Bynum, Jay Lawson, and Noyaw Swinton of Wells Fargo.
Palos Verdes Estates woman who rented house for weddings cited in tree incident (Daily Breeze, 12/28/2010)
Testimony of a 3-Day Wedding Party Renter (click link or here)
605 Paseo del Mar Struck by Vandalism (click here; scroll down to Sept. 17)
"Between 6 p.m. Sept. 17 and noon Sept. 19, eggs were thrown on a resident's vehicle in the 600 block of Paseo Del Mar, causing damage."
Hichem Sandid & Jennifer Phillips: after a long distance romance for these two nurses, Orange County raised Jennifer Phillips made the decision to rent out Chateau del Mar (605 Paseo del Mar) as a 01/31/2015 illegal wedding venue (click here). Without any consideration to the neighborhood, Hichem Sandid and Jennifer Phillips directed their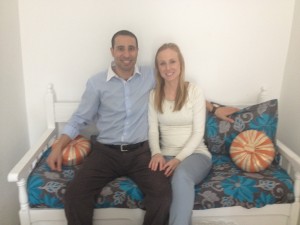 guests to consume the very limited street parking on adjacent Via Almar, a narrow street terribly equipped to handle this flood of event attendees and their vehicles. As of 09/2015, public records indicate Hichem Sandid and Jennifer Phillips reside in Los Angeles, CA, both working as perioperative nurses "and have side jobs as well."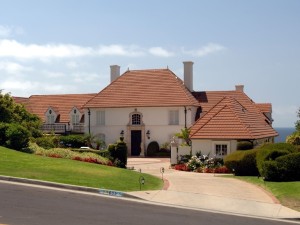 Lifestyles of Turkey's rich and infamous (Asia Times, 05/07/2009)
IF YOU ARE CONTRITE ABOUT YOUR ACTIONS THAT LANDED YOU ON THIS WALL OF SHAME, YOU MAY CONTACT MS. ELLISA HALL, CODE ENFORCEMENT OFFICER OF THE CITY OF PALOS VERDES ESTATES, AT (310) 378-0383 (Ext. 2223). COOPERATION WITH THE CITY MAY LEAD TO YOUR REMOVAL FROM THIS POST. PARTIES TO A JULY 2015 ILLEGAL WEDDING EVENT ARE NOT ON THIS POST TODAY DUE TO COMPLETE COOPERATION WITH CITY OFFICIALS.
Desire Kocarslan/Melahat Uzumcu Litigation Wall (click here)
Chateau del Mar "Guest" Review (BlogSpot, 02/19/2013)
NOTE FROM SITE TO WALL OF SHAME MEMBERS & DESIRE MELI KOCARSLAN: All of the information on this site was obtained from public sources (e.g., County and State court and other records) or provided voluntarily to sources of the site by parties mentioned herein (e.g., Natasha Cleveland or other renters of your illegal event venue). Should you have written evidence that any false statement exists on this site, you are encouraged strongly to contact the site immediately. You are encouraged to provide a signed, notarized affidavit exclusively disputing accusations made against you or related parties. Such affidavit then may be made available on this site, allowing the public to consider "your side" of the story.
This web page and related posts and commentary represent both publicly available and direct witness/participant facts and personal opinions, as protected by the First Amendment to the U.S. Constitution. Comments made by third parties, in the Comment Section below or elsewhere, represent commentators' own representations of facts and own opinions.