IF YOU ENTER INTO A LEGALLY BINDING RENTAL AGREEMENT, VERBAL OR IN WRITING, TO RENT OR OTHERWISE UTILIZE 605 PASEO DEL MAR, PALOS VERDES ESTATES, CA 90274, FROM DESIRE KOCARSLAN, RICHARDSON & DIRECTORS, OR ANY RELATED PARTY, FOR ILLEGAL/NON-PERMITTED USE AS AN EVENT VENUE, YOU SHALL HAVE RELINQUISHED ANY AND ALL OPPORTUNITY TO SALVAGE YOUR WEDDING OR OTHER EVENT FROM STRICT LAW ENFORCEMENT BY THE LOCAL POLICE DEPARTMENT, AND FULL PROSECUTION IN A COURT OF LAW, UNDER THE LAWS OF THE STATE OF CALIFORNIA AND CITY OF PALOS VERDES ESTATES.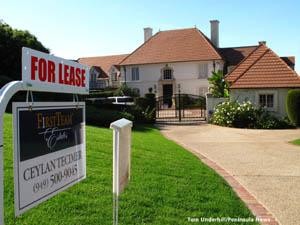 "All those persons who allow, assist others to use, and who actually use the above property for any unpermitted use may be subject to civil and criminal penalties, pursuant to PVEMC sections 17.32.050 and 17.32.060." (click on PVE Legal Notice below). In addition, PVEMC Section 18.42.030 (E) – Visitors, customers or deliveries shall not exceed that normally and reasonably occurring for a residence – shall lead to further prosecution of 605 Paseo del Mar renters using it as an event venue.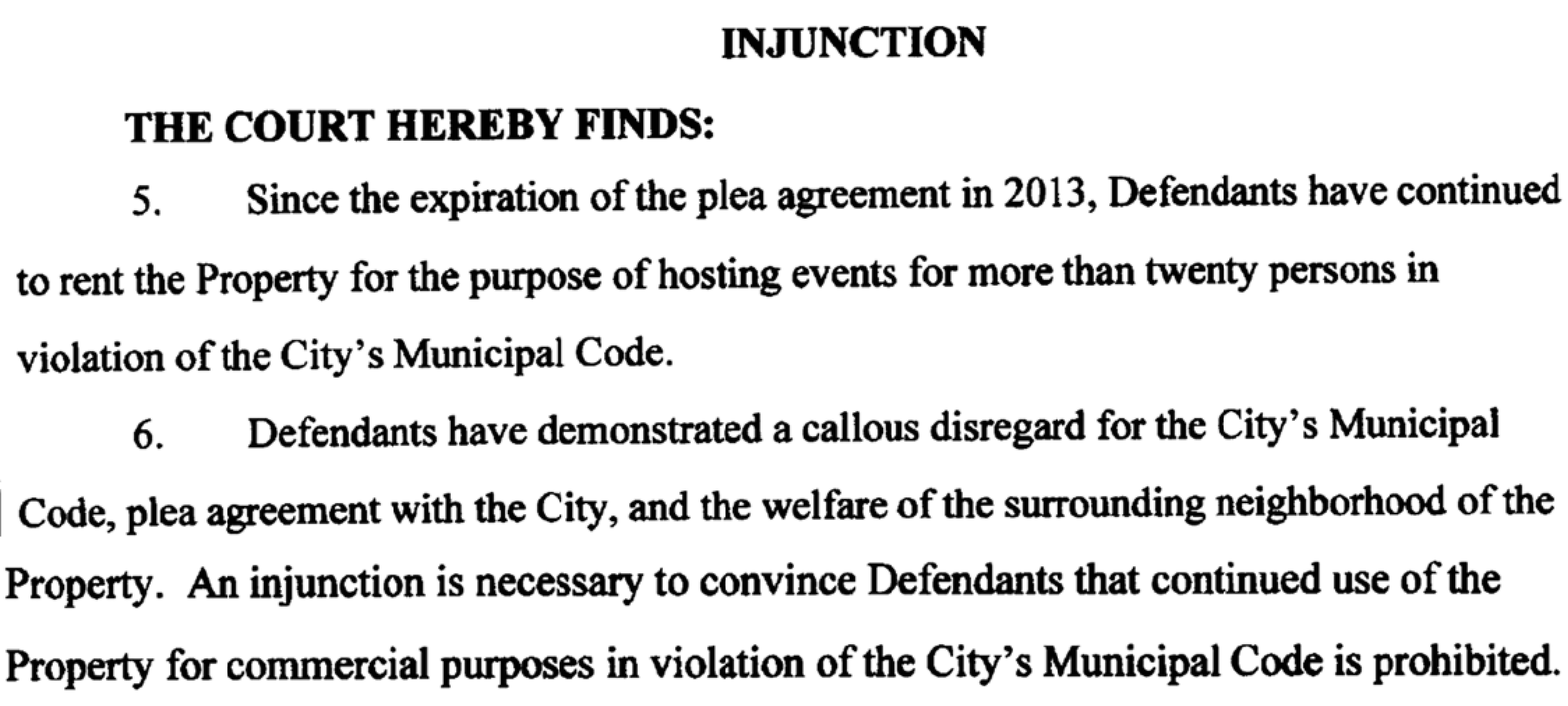 PVEMC §18.04.025

(the "Uzumcu Restriction")
Prohibits Your Event!
In 2012, in direct response to the prosecution of Melahut Uzumcu for her illegal use of her residentially zoned property at 605 Paseo del Mar for events/weddings, the City of Palos Verdes Estates further defined her past rentals as illegal by passing PVEMC §18.04.025 (the "Uzumcu Restriction"), as follows:
"Any event located on property which includes a single-family dwelling, anticipating or prepared to accommodate more than twenty people, where the property owner or his or her representative advertises, requests, or charges an admission fee, rental fee, or other form of payment for the use of the property or any facilities or residence located on the property shall be prohibited. Any event held in violation of this section is declared to be a public nuisance punishable as a misdemeanor. Any person owning property found to be in violation of this section and any other person found to have paid for, rented, or otherwise occupied such property in violation of this section shall be jointly and severally liable for any and all penalties that may be imposed pursuant to PVEMC 1.16.010 and/or Chapter 8.48 PVEMC. (Ord. 700 § 2 (Exh. 1), 2012)"
605 Paseo del Mar Struck by Vandalism (click here; scroll down to Sept. 17)
"Between 6 p.m. Sept. 17 and noon Sept. 19, eggs were thrown on a resident's vehicle in the 600 block of Paseo Del Mar, causing damage."
The City highlighted this restriction in its March 2014 newsletter (click here to Page 4) as follows: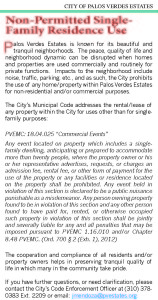 Wedding Event Venue Customer Wall of Shame (click link for list of Bluff/Malaga Cove neighborhood molesters such as Natasha Cleveland of Wells Fargo/Atlanta et. al.)
Desire Meli Kocarslan's neighbors around 605 Paseo del Mar, Palos Verdes Estates, want to live in peace and harmony alongside her. For over a decade, this simple goal has proven to be extremely difficult to accomplish. Over the years, various neighbors have engaged her in acts of friendship and neighborly kindness, only to be
punished therefor. The only goal of this website is to bring peace to our neighborhood by assisting the cessation of illegal rental activity at 605 Paseo del Mar. Any and all legal, non-event venue rentals not only are unopposed by various neighbors, but in fact we find nearly any other tenant a highly likely improvement over Ms. Kocarslan herself. Desire Kocarslan's neighbors wish she would adopt the "core values" of "Integrity", "Respect" and "Love" espoused by her daughter Selin Uzumcu, Social Media Manager of the Crown Jewel Club in Los Angeles (for Selin Uzumcu LinkedIn page click here).
In September 2009, the State of California sued Melahat Uzumcu (aka Desire Meli Kocarslan) over her illegal rental of her residentially zoned property as a commercial event/wedding venue. The four count complaint cited violations of the Palos Verdes Estates Municipal Code (Case No. 9SY08502; Judge Hector M. Guzman recused himself from the case and on September 29, 2009 transferred it to Judge Sandra Thompson). The media picked up stories of the lawsuit, including NBC LA Channel 4 and flyover helicopter coverage by KTLA Channel 7 News (click here and see photo from helicopter below).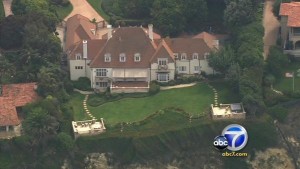 Chateau del Mar "Guest" Review (BlogSpot, 02/19/2013)
Declarations in Support of Arrest Warrants for Melahat Uzumcu were attached to the lawsuit. Indeed, her arraignment was far from Desire Kocarslan's first time in a courtroom. In fact, standing in front of a judge has become commonplace for the former Melahat Uzumcu. as only partially chronicled on the Litigation Wall link below:
Desire Kocarslan/Melahat Uzumcu Litigation Wall (click here)
Relating to the "Illegal Wedding House, " the State prosecuted Melahat Uzumcu (aka Desire Meli Kocarslan) for violations of the following hyperlinked sections of the PVEMC:
Defendant in Palos Verdes Estates Party House Gets Third Delay (Daily Breeze, 12/15/2009)
Palos Verdes Estates Woman Who Held Weddings Fails to Appear(Daily Breeze, 01/13/2010)
NOTE FROM SITE TO DESIRE MELI KOCARSLAN:
All of the information on this site was obtained from public sources (e.g., County and State court and other records) or provided voluntarily to sources of the site by parties mentioned herein (e.g., Natasha Cleveland or other renters of your illegal event venue). Should you have written evidence that any false statement exists on this site, you are encouraged strongly to contact the site immediately. You are encouraged to provide a signed, notarized affidavit exclusively disputing accusations made against you or related parties. Such affidavit then may be made available on this site, allowing the public to consider "your side" of the story.
DJ Layla Loxa All Age Limits Event(ful) Ad (08/22/2009)
City Cracks Down on Weddings at Lavish LA Home (NY Times, 09/28/2009)
Sounds Like Trouble in Paradise (NBC LA, 09/28/2009)
Palos Verdes Woman Faces Jail for Renting Out Home (KeepBalling, 09/30/2009)
Owner of PVE Party Home Postpones Plea (InsideSocial/Daily Breeze, 12/29/2009)
Palos Verdes Estates woman who rented house for weddings cited in tree incident (Daily Breeze, 12/28/2010)
Palm Overboard (CurbedLA, 12/29/2010)
This web page and related posts and commentary represent both publicly available and direct witness/participant facts and personal opinions, as protected by the First Amendment to the U.S. Constitution. Comments made by third parties, in the Comment Section below or elsewhere, represent commentators' own representations of facts and own opinions.